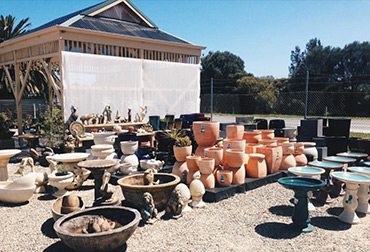 The Central Coast is a great place to make and enjoy your own landscapes. The humid subtropical climate means there is no part of the year when the right plants shouldn't flourish.
With pretty steady rainfall, mild winters and humid summers, there's a lot of choice in what to plant and where. Builders also appreciate the area, with its ample opportunities for landscaping work. Apart from natural materials, this outdoor sculpture needs more solid supplies.
As experts in landscape supply Central Coast homes and businesses trust, we have everything both private and public customers need.
Home and Business
Of course, landscaping can make any premises look great. For many homeowners, carrying out landscaping gives pleasure to the family and adds value to the house. For business owners, creating a welcoming atmosphere outside a property looks professional and welcoming. As the same materials are used, the success of large or small projects is just a question of scale.
Much of the art of landscaping comes with making it look easy. It is usually a mixture of natural materials, arranged as though they just needed a bit of help. In fact, any landscape gardener knows the final look is the result of much groundwork. What goes on behind the scenes is what keeps landscapes looking great.
Hardware is available to help with this. Aluminium damp course, bycol, cement, agg pipe, builders plastic and embossed plastic dampcourse are some of the essentials. They keep the ground properly drained, leaving just enough areas for growth where you want them.
Natural Products
As providers of landscape supply Central Coast gardeners come to, we supply all the natural materials you need. Sometimes these have been modified, like the many types of gravels available. These come in various shapes and sizes, not to mention colours and textures. Gravels can really set off a landscape design, from blue aggregate to red or cream deco granite.
Sands are also often a large part of any landscape project. Sand can be used to make sandpits, or for more decorative finishes. Typical types of sand used are fine washed beach sand, yellow or white bricklaying sand. Coarser sands include river sand, concrete sand and a concrete mix.
Of course, soils and mulches are essential for landscaping. There is organic soil and compost for great growing, soil improver for weaker soils, potting mix, topsoil and topdressing. To prevent soil erosion, there are a number of mulches available, from organic to hardwood chip or eucalyptus mulch.
To finish it all off, choose from a range of decorative pebbles. These can be very small, or much larger and unevenly shaped. From pure white limestone to 30 – 200 mm river stones, you can create any look you like.
More Information
For more about the landscape supply Central Coast professionals and amateurs love, call us at Coastal Sand and Soil. You can also view our full range of products online here to get a good idea of what we have on offer to improve your landscape.